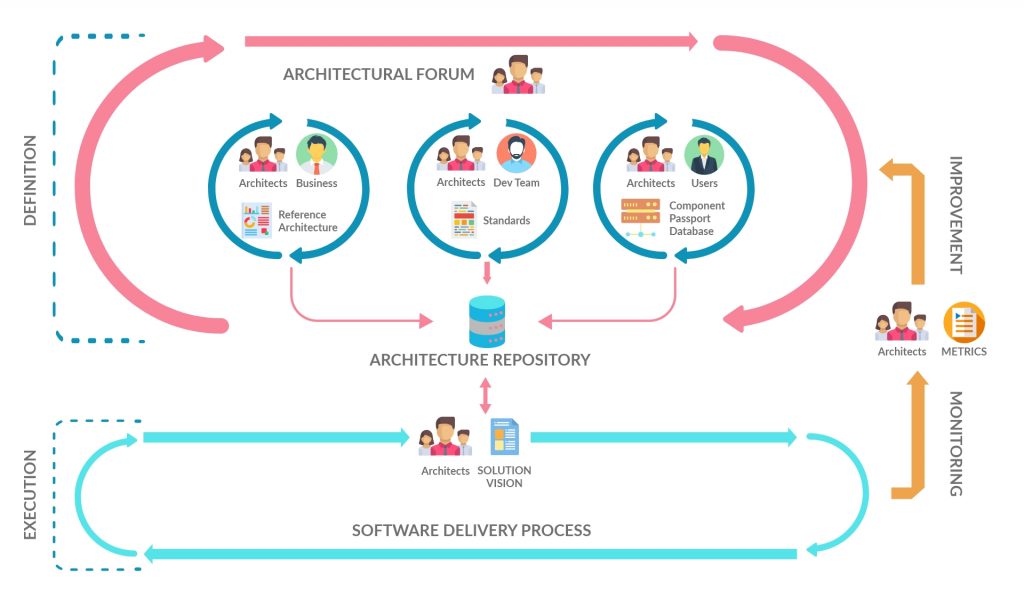 Above picture is clickable

The pace, frequency and scope of changes in the world around us force a change in the approach to change management. Since the change management has become a new standard, not an emergency, it means that only a continuous transformation of the company will allow it to survive nowadays.
Lean Architecture Framework is a collection of best practices which enable the IT environment to respond consistently and quickly to a changing business situation while maintaining its consistent form. It does this by appropriately placing the Architect in the software development process. The architect with the right knowledge can quickly make good decisions.
LAF not only contributes to the implementation of continuous transformation, it also actively supports it. Laf does this through constant changes in architectural goals and the process of continually striving to achieve them.
LAF supports the commitment of all architects and businesses by building agreement between them striving to build a lasting healthy relationship between them. Thanks to this, it allows the personal development of architects working in the organization, which in return has a direct impact on making good decisions regarding the IT environment.
Innovation is the heart of LAF. At work, day after day, the architect has the opportunity to propose new solutions during direct cooperation with business. LAF supports the dissemination and implementation of business ideas throughout the organization.
The main characteristics of LAF are:
| | |
| --- | --- |
| Simple | LAF is easy to understand and short |
| Pragmatic | It concentrates only on activities that provide value and nothing more. |
| Adaptable | LAF is easy to adapt to the specifics and needs of the organization |
| Complete | LAF is used to manage all aspects of complex IT architecture environment, it is full-fledged solution which contains proven guidelines to support it |
| Enables Architectural Agility | LAF support constant respond to a current situation of organization and adapting to the changing business environment |