Most of the training is dedicated and ordered by companies. We encourage you to contact us and arrange a training for your company.
Soon we will start with the first open training. Follow our website and social media
All our trainings are interactive and you could call them a workshop.
One of the examples we did. "Workshops on building a whole new IT environment for a financial organization"
LAF Architect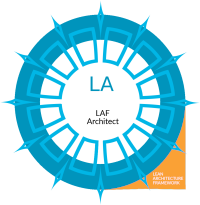 This course will provide you with practical knowledge and good practices needed to build a harmonious IT environment and will explore the secrets of effective IT architecture management. The LAF Architect course responds to the need to look at the horizontal development of the organization by shaping a coherent architecture. If you want to learn how to create and effectively manage IT architecture, this course is for you.
On the course you will learn what it is:
  Continuous Transformation

 Reference Architecture, Solution Vision  and how to create it

 How to build and manage architecture in an optimal way

How to effectively measure the way to the set goals

Lean Architecture Framework
After course you will receive:
Teaching materials
Voucher entitling you to pass the exam for a certified LAF Architect
.